Research
Research activities in Industrial Engineering at Universitas Islam Indonesia focus on the following vision:
Productivity Improvement in Supply Chain Management based on Industry 4.0.
Sharpen students' talent by joining one of three research groups:
Industrial Operation and Management
Ergonomics and Safety Engineering
System Manufacturing and Supply Chain Management
The research groups will expand research on the following research areas:
Humanitarian and Healthcare
Smart city
Supply Chain Compliance
Sustainable Industry
Intelligent Enterprise
Internet of Things, Virtual Reality, Augmented Reality, Database Management Systems, Artificial Intelligence, Big Data, robotics, and other cutting-edge technology will merge with business and management research to make system optimization and transform challenges into actions.
Research Opportunities :
The followings are research topics open for students willing to take a Final Project both undergraduate and post-graduate programs.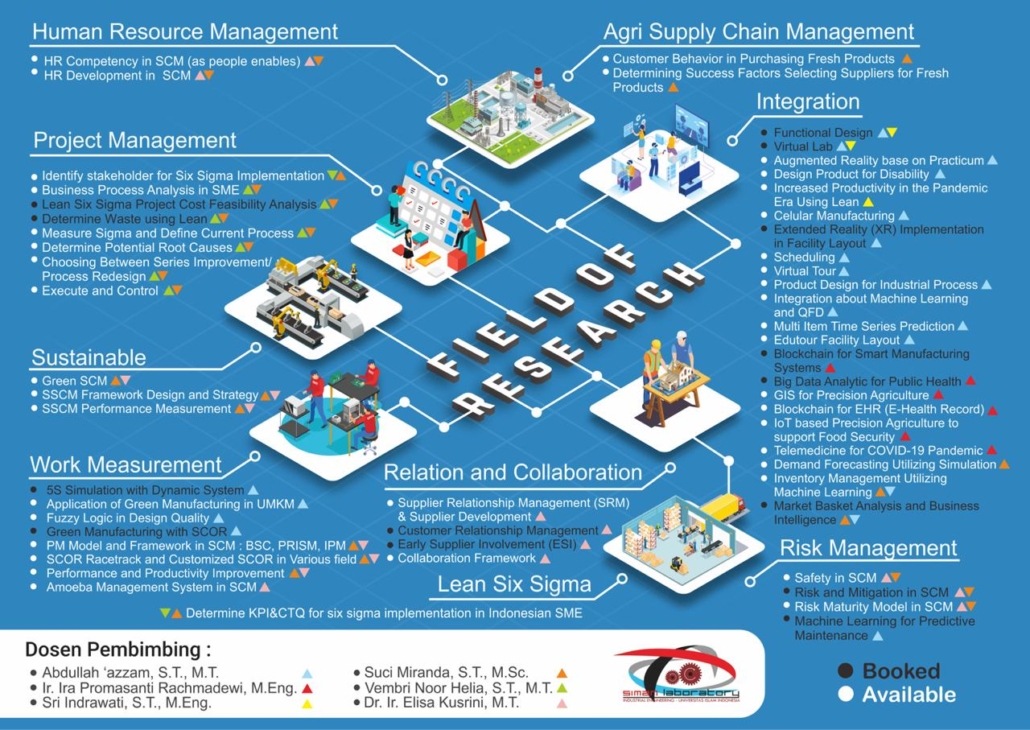 The Research Topics from the above figure are ready for students who are interested in doing research for Undergraduate or Post Graduate Final Thesis. Students can directly contact the Laboratory or the Supervisor for a selected  Research Topic.
List of Student Undergraduate Final Research Projects :
N0
Date
Research Title
Date
Student Name
Student ID
Supervisor
Date of Proposal Approval
maximum defense date (6 months)
1
05/02/2021
Return Vending Machine Product Development using QFD method and Ergonomics Discipline Case Study: PlusTreat Machine
February 5, 2021
Naufal Ghaliya Salsabil
17 522 138
Winda Nur Cahyo, S.T., M.T., Ph.D.
February 4, 2021
August 4, 2021
2
02/02/2021
Risk Analysis and Facility Layout Re-Design Using Activity Relationship Chart for Productivity Improvement at Receiving Department (Case Study: PT. Lintas Bintang Mulia Nusantara)
February 2, 2021
Kresna Adji Setya Wardhana
17 522 052
Bambang Suratno, S.T., M.T., Ph.D.
January 29, 2021
July 29, 2021
3
02/02/2021
Waste Analysis on Shop Floor Layout Management to Determine Optimal Production Capacity (Study Case: PT Centra Biotech Indonesia)
February 2, 2021
Krisna Mu'tashim Azhar
17 522 217
Winda Nur Cahyo, S.T., M.T., Ph.D.
January 29, 2021
July 29, 2021
4
22/01/2021
Usability Analysis Comparison of Self-Service Business
Intelligent for Decision Supporting Tool using Microsoft Power
BI and Tableau (Case Study: PT. Lintas Bintang Mulia Nusantara)
January 22, 2021
Muhammad Farhan Hidayat
17 522 043
Winda Nur Cahyo, S.T., M.T., Ph.D.
January 22, 2021
July 22, 2021
5
19/01/2021
Implementation SCOR Racetrack Model in the Performance
Improvement Program on Leather SME in Sleman Regency
(Case Study: CV. Kay Nusa Bihaka)
January 19, 2021
Fahrul Asshiddiqi
17 522 169
Dr. Ir. Elisa Kusrini, MT., CPIM., CSCP
January 18, 2021
July 18, 2021
6
06/01/2021
SWOT Analysis of Tesla Inc. Marketing Strategic
January 6, 2021
Ade Juliano
17 522 015
Winda Nur Cahyo, S.T., M.T., Ph.D.
January 5, 2021
July 5, 2021
7
03/11/2020
Supply Chain Risk Management on T-Shirt Distribution During Covid– 19 Pandemic Using House of Risk (HOR) and Fish Bone Diagram (Case Study: PT. Aseli Dagadu Djokja)
November 3, 2020
Farhan Muhammad
16 522 238
Dr. Ir. Elisa Kusrini, MT., CPIM., CSCP
November 2, 2020
May 2, 2021
8
26/10/2020
The Determination of RVM Features Using KANO and Sentiment Analysis
Case Study: PlusTreat Machine
October 26, 2020
Putri Amalia
17 522 035
Muhammad Ridwan Andi Purnomo, M.Sc., Ph.D
October 23, 2020
April 23, 2021
9
19/10/2020
Occupational Safety and Health Risk Analysis of A
Community Health Centre Construction Project Using
the Hirarc Method
October 19, 2020
Moch Agung Perdana
16 522 181
Winda Nur Cahyo, S.T., M.T., Ph.D.
October 15, 2020
April 15, 2021
10
10/08/2020
Analysis Of Student Satisfaction Towards Service Quality That Delivered by Industrial Engineering Department Universitas Islam Indonesia During Online Learning Period
August 10, 2020
Rahma Alrosdi Wira Putri
16 522 042
Bambang Suratno, S.T., M.T., Ph.D.
August 10, 2020
February 10, 2021
11
10/08/2020
Process Improvement of Honing Process in Stone Tile Factory
August 10, 2020
Tika Warisman
16 522 228
Bambang Suratno, S.T., M.T., Ph.D.
August 10, 2020
February 10, 2021
12
10/06/2020
Productivity Analysis Through Overall Labor Effectiveness (OLE) Measurement in Sanding and Buffing Panel GP Working Group (Case Study: Painting Department – PT. Yamaha Indonesia)
June 10, 2020
Mahfuzh Zuhdi
16 522 096
Dr. Taufiq Immawan, ST., MM.
June 10, 2020
December 10, 2020
13
09/06/2020
Analysis of Customer Satisfaction and Proposed Improvements in the Indonesian Digital Home (Indihome) Fiber Internet Service Industry Using Servqual and TRIZ Contradictory Matrix Methods
June 9, 2020
Nazila Syarafina Rismhandani
16 522 201
Dr. Ir. Elisa Kusrini, MT., CPIM., CSCP
June 8, 2020
December 8, 2020
14
03/06/2020
Defect Analysis Using FMEA (Failure Mode and Effect Analysis) and Six Sigma on Cabinets of UP (Upright Piano) (Case Study: Final Check and Repair UP – PT. Yamaha Indonesia)
June 3, 2020
Cahya Magistra Putra
16 522 156
Dr. Taufiq Immawan, ST., MM.
June 3, 2020
December 3, 2020
15
21/04/2020
Company's Strategy Based on GAP Analysis of Marketing Management to Increase Customer Satisfaction
April 21, 2020
Pandu Ekoyudho
16 522 234
Dr. Ir. Elisa Kusrini, MT., CPIM., CSCP
April 20, 2020
October 20, 2020
16
19/11/2019
Marketing Strategy Using RFM Analysis
November 19, 2019
Khairunnisa Izdihar
15 522 039
Muhammad Ridwan Andi Purnomo, M.Sc., Ph.D
October 25, 2019
April 25, 2020
17
24/06/2019
Sentiment Analysis on a Product Review for Product Design
June 24, 2019
Jeffri Suryadharma Saleh
15 522 184
Muhammad Ridwan Andi Purnomo, M.Sc., Ph.D
June 21, 2019
December 21, 2019
18
16/05/2019
Evaluation of Maga Swalayan Performance Using Integrated BSC with Industry 4.0
May 16, 2019
Agung Asaba
14 522 282
Muhammad Ridwan Andi Purnomo, M.Sc., Ph.D
November 24, 2018
May 24, 2019
19
09/05/2019
Analysis of Communication Tools Indicators Towards Brand Trust on Green Marketing Aspect Using System Dynamics Approach
May 9, 2019
Aninda Jelita
15 522 376
Dr. Taufiq Immawan, ST., MM.
May 8, 2019
November 8, 2019
20
17/01/2019
Hazard Risk Management Framework Focus on Maintenance ( A Systematic Literature Review)
January 17, 2019
Wulan Dwi Yanti
14 522 067
Dr. Taufiq Immawan, ST., MM.
January 16, 2019
July 16, 2019